Brett Manning Singing Success Review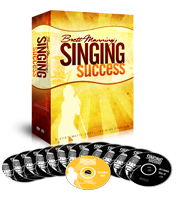 There are plenty of singing lesson programs out there to choose from today, which I think is great, because an online singing lesson program is a far more cost effective option than standard private lessons. With an online singing lesson program you can get an entire systematic singing system with tons of lessons and exercises for the cost of just a couple of private lessons. The comparison can hardly even be made, really, because the amount of instruction you get from a step by step singing lesson guide is a hundred times what you would get from just a few lessons. Okay, enough of that; you get the idea.

A Bit About Yours Truly
Let me tell you just a smidge about me. I am a nut about researching and reading everything I can about the voice and how it works. This is kind of a passion of mine that I do whenever I'm not on stage performing, or in the studio or giving vocal tips and lessons. I've been singing professionally now for the better part of my adult life and have worked with, and alongside, several Grammy Award winning producers. And I can honestly say that Singing Success is by far the best program I have come across that includes a systematic singing system for both the beginner and seasoned singer.
My Personal Experience with Singing Success
I'm almost all the way through the program myself, and even though I've been singing professionally for years, I've still learned some great tips and added about half an octave to my range. The program guarantees you will add an entire octave to your voice, so we'll see in the next few weeks as I finish up the program. I have a decent range right now as it is, so I'm surprised that I was able to increase it at all!
Some Key Features About Singing Success
As I mentioned above, this program guarantees that you will add an octave to your range, and particularly your higher range, so you can start hitting those higher notes after all. And their guarantee is valid for six months, which is pretty crazy, given that most products only have a four, maybe eight, week money back guarantee.
>> Click here to visit Singing Success and learn more
And, even more importantly, you learn how to sing higher notes without strain. That is the feature that I personally found most helpful. In the program they give you some really good tips and exercises that help take the strain off of your voice, so you can work on expanding your range without all the tension. And these same exercises help you develop a mix voice (some call a blended voice), which is the key to expanding your range. A mix voice simply means blending your different registers (chest, head, falsetto, whistle) together and erasing your breaks.
That another really helpful thing that this program focuses on is helping you get rid of the breaks and cracks in your voice that occur when you transition from one register to the next. All of this is part of expanding your range and is done with just a few simple exercises over time.
Another great feature of the Singing Success program is that it is truly a systematic learning system. It comes with a ton of CDs, full of lessons, that are numbered and follow a system. So, there is no guessing what to do next. All the lessons build on each other, so all you have to do is go to the next lesson and do the work.
Then, the final section of lessons teaches you how to sing a bunch or different styles and includes a ton of vocal runs and trills to learn. That's a pretty cool feature that I haven't seen before.
And one of the best features is that you get a warm up CD that is meant to be used as a daily vocal warm up and strengthening exercise. I've been using this myself, and it has completely replaced my old one.
Vocal Instructor, Brett Manning
And Brett Manning is great. He walks you through exactly what you need to do and makes it simple enough for a fifth grader but with content that is advanced enough to help even the seasoned professional.
Brett's story is that he was pursuing a career as a singer, seeking better and better vocal teachers, but all of them seemed to have similar methods, and these methods all included tension on the vocal cords for the higher notes. But then he found a maestro when he was out in L.A. who turned his approach on it's head, and now Brett has a five-octave voice and can nail all the notes without stress, strain or pushing. And it's the methods of this old Yoda-like teacher that Brett is passing down to his students.
And he has had, and continues to have, quite an impressive list of celebrities that he trains and/or warms up regularly, including: Taylor Swift, Hayley Williams (Paramore), Keith Urban and many more.
In Sum
Singing Success is my #1 ranked DVD vocal program. It is a steal for the price, and I believe that it can help anyone no matter how much talent they think they do or do not have. This is s great program, and I'm really glad that I came across it.
Aaron Anastasi
>> Click here to visit the Brett Manning Singing Success website