Professional Vocal Teacher Reveals His Secret, Step-By-Step System Guaranteed To Make You A Better Singer Than You Ever Thought Possible – in the Next 60 Days…
Here's Your Only Opportunity To Have Me Be Your Personal Vocal Coach and Take You Through My 8 Phase Program, Leading You Step-By-Step To Increasing Your Vocal Range, Improving Your Tone, Perfecting Your Pitch, Boosting Your Vocal Power, and Singing Like A Pro!
Dear Friend,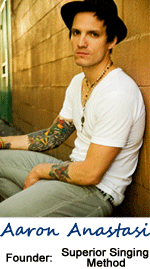 If you would like to discover the fastest and easiest way to master the art of singing, achieve total vocal control and finally become the dynamic, superior singer you've always wanted, then this will be the most important message you ever read.
After coaching hundreds of people ranging from advanced level singers who are seeking a professional singing career to people just looking to improve their voice and sing their favorite songs like they never have before while achieving incredible results without having to practice for hours a day and spend thousands of dollars on private instruction, I've developed a breakthrough solution and put it in a format that YOU can use to guarantee the same type of incredible results yourself.
Sounds too good to be true, doesn't it?  Well, it's not.
Just look at what these real world case studies who have used the Superior Singing Method have to say
Excellent! Incredible information packed into the easy to watch and understand videos. I started using the information from each video AMAZING! It all started clicking for me immediately. I have to say I have a small advantage over some people as I had taken some voice lessons at an early age ( 40 years ago ) and what you were explaining on the videos made perfect sense to me. It re-awakened my desire to learn more, practice more and perform more. I do karaoke twice a week, so I am always looking to improve and have songs I would like to perform but stayed with the "safe" songs in my comfort zone range wise.
The range building exercises and vocal agility exercises helped tremendously but also the exercises on vocal tone and resonators made a HUGE difference almost instantly. It was almost miraculous! I practiced 2 songs which I would never been able to pull off  and sang them at a karaoke show this week (this is after only using your course for a week) while I was singing I noticed the usually somewhat noisy crowd had gone silent. They were actually listening! With the help of your lessons, I performed Josh Groban's "My Confession" and Celine Dion's "The color of my Love".
There is no way I could have done these songs two weeks ago. Larynx down, soft palette up, jaw down … It worked perfectly and the tone was unreal. I moved from chest voice to head voice without any cracks or breaks.  UNREAL! I had so many comments after those songs. The best was from a friend who sees me every week and said "Where the Hell did that come from?" I just told him I have a vocal coach named Aaron and he is really good!  LOL"
Les Cox

Your course is great!
It is obvious that it will improve a number of things — the ability to stay on pitch, the ability to move easily from low notes to high without struggling to find the pitch or sliding into it.  I also found it interesting that the larynx can be strengthened by daily workouts, much like other muscles in the body."
Cary Watt

Your lessons were perfect in helping to improve my voice in the ways needed.  I began to learn how to relax my jaw, where my tongue should be, proper breathing, what type of voice I have.  (range wise)  How to go higher, easier and many other things too! Thanks Aaron!"
Carol Brimhall

Your online course is great and very helpful. It's way better than any other online course I've tried."
Malisha Jones

My whole life I have mumbled to myself when in a group situation where I was expected to sing (national anthem, etc) because I knew I would be horribly off key.  Your videos have indeed given me the confidence again to sing!"
Greg Randall

I have been using Superior Singing Method for about a week. I have noticed a better control in being able to hit the right notes and better tone quality in overall singing…it is becoming easier to hit the correct notes without having to slide up or down to them.
I am excited about having a better quality to my voice, better pitch and overall singing ability.  I see that the exercises are enhancing my abilities and improving my overall quality…by continuing the daily practice I will be able to perform better and better"
Ken Anderson

The Superior Singing Method has been a blessing.I understand things about singing that I needed to know. Now I'm on the right track!"
Nathaniel Thompson

I have created a 8 step system that will allow you to achieve a superior vocal tone, increased vocal range, more powerful voice, better vocal sustain, amazing vocal agility, and the ability to sing anywhere in your range without string or those annoying cracks or breaks…all without having to spend hours practicing.
And now you can have me guiding you through the entire 8 step, new and improved system – something that has not previously been available – until now.
With the Superior Singing Method, I combine all of the factors that work together to accelerate your vocal improvement, ability to sing higher notes without strain, and develop a warm rich vocal tone within a complete done for you, follow along system in which every single vocal training component comes together to create a result far greater than you could have ever achieved before.
Get The Results You Deserve
You are not only going to have me as your personal coach and guide as I have designed the perfect Singing Training program that is guaranteed to work for you as it has for hundreds of other people, but you will also have over 50 high quality videos that walk you step-by-step the entire way through the course to make sure that you are executing the Superior Singing Method correctly 100% of the time for even faster results!
You are going to get the same system that has helped singers of all levels while also helping "average joes" achieve the ability to sing higher notes with ease, develop a great sounding voice, increase the power in their voice, develop their mix voice to be able to seamlessly sing in any part of their vocal range, and sing on pitch so accurately that they even surprised themselves.  This step-by-step system will have you amazed at just how fast your singing will improve and is so simple to follow that it guarantees your success.
You even get access to the interactive Superior Singing Method member's area where you can interact with other singers and get personalized help from me so that your vocal improvement will be a smooth process with lightning fast results.  I want you to be a better singer than you ever thought possible and I am positive that Superior Singing Method will make sure of that.
It will be just like coming to my own studio and having me by your side, every day, talking you through each singing lesson session to make sure that you get the results that you want and deserve.
Here's What You Will Get Inside Superior Singing Method
Superior Singing Method is a multi-media course containing 8 modules, over 50 HD videos, singing tip reports, 2 fast-action bonus modules, singing exercises that you can download to CD or mp3 player, an interactive members area and a Superior Singing resource center. You get instant access to everything, immediately after registering. Here's a more detailed breakdown of what you'll find inside the members area.
The entire Superior Singing Method is designed to be an 8 week step-by-step course.  You have access to every lesson instantly but it is suggested that you go in order and do one lesson a day.  I have worked extremely hard at developing a singing method that allows you to see incredible results in just a few minutes a day.  Each module can easily be completed in one week but you can faster or slower…whatever pace you are comfortable with.
Module 1 – Unique Vocal Warm Up Exercises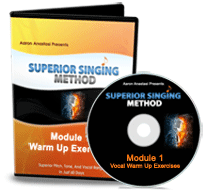 Vocal warm up exercises like the ones here are excellent for beginning to unlock your voice.  Not only will you help to wake your voice up and get prepared for more vocal work but you will also begin to improve many other aspects of your voice such as tone, pitch, vocal agility, and vocal strength.  These exercises are the foundation of the entire course and are absolutely essential for improving your voice.  You will also learn my 50-20-80 principle that will ensure that you get the most out of your warm ups and avoid any vocal strain.
Each module also has an interactive Q & A feature. So if you don't understand something, just ask your questions and I'll come by and answer them personally.
Module 2 – Breath Management and Diaphragm Breathing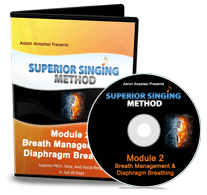 This module will give you the knowledge and foundation you need to develop the best habits for optimum singing performance.  Many problems you may be experiencing in your voice may be solved in module 2 as it contains many of the key principles of singing correctly and getting the most out of your voice.  Knowing these principles will help you to have a more steady, controlled voice while also improving your ability to sing on key, hit higher notes, and sing those notes with more power.
Module 3 – Vocal Tone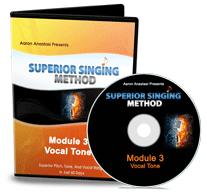 Vocal tone is that unique quality that makes your voice different from everyone else's in the world.  This can be a great thing if you have developed your tone and know how to get the most out of your vocal tone.  With these singing tips and exercises you will learn how to take your voice to the next level so that you sound like the best "you" that you can.  You will also discover how to eliminate nasality from your voice and a trick that makes your voice sound full and rich even when you are singing notes in the very top of your range.
Module 4 – Pitch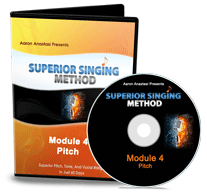 If you have ever heard a singer that is off key and singing out of tune you have heard how bad it sounds to have bad pitch.  The good news is that great pitch is not something that you have to be born with…it can be improved if you know how.  In this modules 6 training videos I will give you tips and exercises that will not only develop your pitch so that you are always on key but you will also begin to develop your ear so that you can nail any note with confidence.  You will also learn how to shape your vowels in order to maintain excellent pitch at all times.  And of course you can use the interactive Q & A feature if you have any questions just like you can in all of the modules.
Module 5 – Resonance and Singing With Power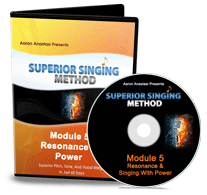 In Module five you will learn how to eliminate a very specific type of tension that will kill your vocal resonance and ability to really sing with power.  In the 6 training videos in this module we will cover how to position your tongue so that you always sound your best and you will get exercises that will develop your resonance and strengthen your voice.  You do not want to have a weak sounding voice so this is where we develop your ability to sound like a strong confident singer who can project with amazing rich tone.
Module 6 – The Mix Voice and How To Sing Higher Notes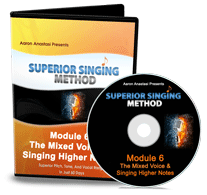 In Module six I will give you some very unique exercises that you will not find anywhere else in the world that are excellent for quickly expanding your vocal range so that you can sing higher notes.  The best part is I will show you how to sing these higher notes without straining your voice so that you can sing higher with ease.  You will also develop your mix voice so that you can hit higher notes with more power, better vocal tone, less strain, and smooth the transitions while you sing.  No more cracking or vocal breaks…sing higher notes with ease!
Module 7 – Vocal Agility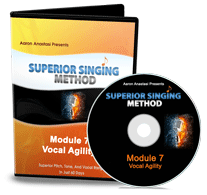 In this module you will develop your vocal agility which is the ability to bounce from note to note and stay on pitch.  When you hear singers do vocal runs or move quickly from note to note they are using their vocal agility.  This skill is what really separates beginner singers and advanced singers…when you master this skill you will hear a huge difference in your voice.  The 6 training videos in this module will give you singing exercises that will quickly develop your vocal agility and also help to improve your pitch and expand your range.
Module 8 – Advanced Vocal Strengthening and Techniques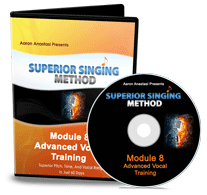 The six training videos in Module eight will take your voice to the next level.  You will begin to not only sing even higher notes but you will be able to sing those higher notes with more power and with better vocal agility.  Another vocal technique that you will learn is vibrato which can be a great tool to use in your singing.  You will get exercises that are designed to challenge your voice making it fun and effective to continue becoming the singer you want to be.
But That's Not All…I Will Also Include The Following Awesome Bonus Modules
Bonus Module 9 – Performing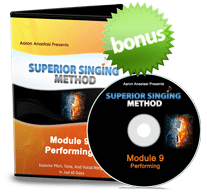 A huge part of singing that most people completely overlook is the art of actually performing.  Professional singers do not simply practice improving their voice and never practice their performance skills.  This module will help you to understand how to command respect from your audience while remaining perfectly relaxed and in control at all times.  You will learn how to relieve tension so that you can truly focus on singing and enjoying the moment.  These tips are based on my experiences from performing in front of thousands of people all over the world…and I'm giving you all of my knowledge.
Bonus Module 10 – Music Marketing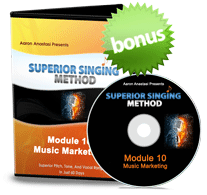 In this module I will give you the know-how to get out and market yourself and your music effectively.  I have been a professional musician for 20 years and have been lucky enough to sell a lot of albums and even make a decent living through music alone.  The tips you will receive in this module will help you greatly if your goal is promote yourself, your music, or you singing ability.  From personal branding to booking gigs – you will learn how to do it all.
Of course as with all of the modules there is a Q & A section where you can ask any questions you want if you need help with anything at all.
I am giving you every singing tip, resource, vocal exercise, tool, strategy and technique you need to improve every aspect of your singing voice and quickly become a better singer than you ever thought possible.
With Superior Singing Method you're guaranteed to be utilizing the newest and most revolutionary vocal training methods in the right way so that you'll NEVER have to spend a single minute wondering what to do or if you should have done something differently…and you get it all for less than the price of one singing lesson working with me in person!
I am really enjoying the exercises. I've been recording the same song everyday right after warmup and my advanced exercises. My recording of yesterday's performance of the song I liked a lot! I had my wife listen to it and she actually said to me, "Hey! That sounds good!" for the first time in many, many years."
Thanks once again.
Best,
Fabiano

Hey guys, I'm 14 years old and my parents got me the course which is great! I feel you did a very good explanation on everything and you make sure that everything you say is clear and easily understood. I specifically learned that you don't have to be born a good singer, that ANYONE can learn how to sing!"
Stefani R.

Exercises online is just what I needed! I can get online and do the exercises TOGETHER with you online. It will push me to not be lazy about practicing."
Hung Hoang

I have been using the Superior Singing Method for about a few weeks now…it definitely has helped me not only to improve my singing but also provided details, information, tips, and other techniques to help me understand and appreciate music and singing more…
I'm truly excited to put what I learn from Superior Singing Method into practice."
Eric Lim

I'm a 34 year old music manager and I wanted to learn how to sing better. I finally made my band the go WOW!"
Nicolas L

Superior Singing Method has helped me discover how to get the best tone out of my voice while improving my pitch so it sounds full and pure. It has helped me develop an ear with the ability to simply hit the right notes with confidence.  It has explained exactly how to breathe so that I get the most out of my voice.  I'm able to sing for hours without strain!
The unique exercises have taken me beyond a simple warm up routine helping my voice "breakthrough".  My range has increased, I hit higher notes, and I feel less strain in my voice and notes that were once impossible to reach are now easy to sing.  I like that the online course is much more affordable than expensive private singing lessons.  I have the flexibility to do my singing lessons when it is most convenient and I can work through the modules at my own pace.
Aaron is an incredible teacher…it definitely has improved my voice!"
Ray D. – Florida

The Superior Singing Method Iron-Clad
Money-Back Guarantee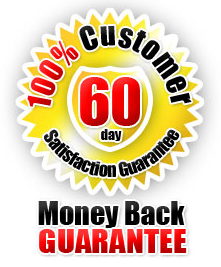 Here's my promise to you.  I want you to succeed…that's why I have created this course and that's why I will show you the exact step-by-step process that will take your singing to the next level and beyond.  And that is also why I invest a lot of time in the Q & A section helping singers like you to overcome their struggles and see real results in their voice as fast as possible.  I'm only asking 2 easy payments of $39.97 and honestly I think that this course is worth hundreds if not thousands of dollars more.  If you were to take a one hour lesson with me it would actually cost you twice as much for just that one lesson than for the price of this entire course so I hope you can see I have tried to make this the best deal possible for you.
I am also 100% confident that if you follow the system I have created in this course that you will see an amazing difference in your singing voice.  In fact, I'd be shocked if you weren't ecstatic and overjoyed with how good your singing is going to sound by the end of this course.  That being said, if for any reason whatsoever you are unsatisfied with the material in this course I will give you 100% of your money back, no questions asked. Simply shoot me an email within 60 days of your purchase and you will receive a full refund.
So there you have it.
The guarantee removes any risk you have and allows you to be totally confident because your order is safe and secure.
Sing higher notes with zero strain
Improve your vocal tone, eliminate nasality, and gain a rich, pure voice
Become a more powerful singer
Develop your mix voice so you can sing any note with confidence
Improve your vocal agility
Perfect your pitch and sing on key with ease
Learn the proper way to breathe when you are singing…setting up a proper foundation
Discover advanced singing techniques and master them easily
No practicing for hours a day…you can achieve all this in just a few minutes a day
Here's Why You Need To Act Today
The value of the information within the system is worth so much more than what I'm charging that I just simply can not leave it at this price forever.
Right now you can get the entire Superior Singing Method for the low price of just 2 easy payments of $39.97…
This is less than half the price of just one private lesson with me and you get an entire course with over 50 singing lessons and videos, every module, plus the free bonuses so hurry and act now.
Just click below now to start achieving results faster than you ever thought possible with the Superior Singing Method!
Ordering Is Safe, Easy And 100 % Secure!
To order simply click on the link below and you will be taken to a secure order page.  Superior Singing Method is offered within an interactive members area. The training material consists of over 50 videos, 8 modules, 2 bonus modules, and tons of amazing singing tips and exercises. Once you have made your purchase, you will automatically be taken to the member's area where you can get started in the next 2 minutes.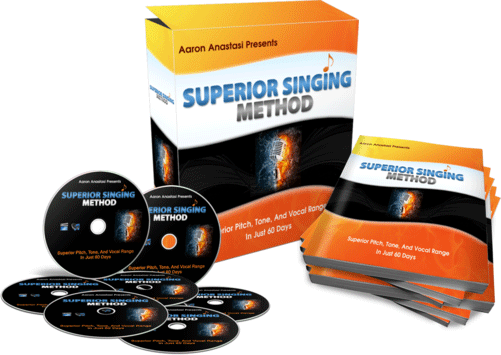 Order Superior Singing Method Now!
To Becoming A Superior Singer,

Aaron Anastasi
Creator – Superior Singing Method
P.S. - This step-by-step vocal improvement system is designed to improve your singing no matter what.  Whether you sing for a hobby or are an advanced singer I am absolutely confident that you will see and hear amazing results in your singing voice, increase your range, improve your tone, sing with more power, have more vocal control, and have excellent pitch in just a few minutes a day.
P.P.S. – Your results are guaranteed by my 100% money back promise. If you aren't completely satisfied with your results from the Superior Singing Method, just let me know within 60-days and you'll be refunded your entire investment…no questions asked.
NOTE: Superior Singing System is an online product. No physical products will be shipped. After you order, you will get INSTANT ACCESS to the member's area where you can watch videos, get singing tips, and interact in just minutes. The videos, tips, and lessons are available on any computer, including tablets and even your iphone or ipod.  We are completely compatible on both Mac or PC. If you have any questions regarding this product please contact me at aaron@howtosing.com